Top 10

Best Gaming Mouse of 2021

Options considered: 40

Country:
Philippines
Last updated: May 2021
Ranking criteria: value for money, customer reviews, popularity, brand trustworthiness
Assuming you are not a professional gamer, nor a gaming enthusiast but you have, for one reason or another, found yourself at this particular little section of the internet, you are probably wondering: what even is a gaming mouse? Why do people buy this stuff? And are there major differences between gaming mice and regular mouse? Well, rest easy! We are going to cover all of that and more here. So let's get into it!
[close]
Our Ranking Criteria
In short, we do the research for you.
You probably don't have time to read through reviews of top 40 products
. We go through reviews for you, and try to paint a decent picture of your best options. We rank the products based on 4 weighted criteria:
customer reviews [30%] - how customers rated this product? Literally, the higher, the better.
popularity [30%] - how many people seem to buy this product compared to other options.
brand trustworthiness [15%] - the more other high-rated products by this brand, the more trustworthy we consider the vendor
value for money [25%] - adjust the above for price. If there is a better option for lower price, product is ranked higher.
What about the price?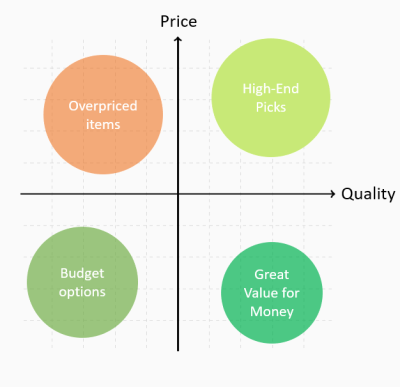 Price only accounts for 25% of the score because price is a tricky thing. It boils down to your individual preference - do you want to go higher-end or budget?
Ideally, we try to recommend better-featured items that have a lower price and high customer score, but in most cases you can't espace the fact that extra features/quality cost extra money.
Please take a look at the price chart for gaming mouse to see the best picks in each budget.
Price ranges for best-selling Gaming Mouse:
We made a price chart of the top selling Gaming Mouse (see below). Budget options
start at ₱65, going up ₱1370.
The most popular option is priced at ₱938, which is on the pricier side.
A gaming mouse is essentially a regular desktop mouse that allows users to customize and program almost every single detail to make it more suitable for gaming. You would be able to easily spot one from its style. This is because more than the fact that they are a lot more flashy than normal mice, they are also mostly designed in a fashion that will allow the user to get a better grip on the mouse.
So What Exactly are those Customizable Features on a Gaming Mouse?
Almost everything. Let's nevertheless look at all one after the other and how these features could change the mouse:
The DPI: The DPI stands for Dots Per Inch. This feature determines the sensitivity of any mouse. The higher the DPI, the more sensitive the mouse is, which means even the slightest hand movements are picked up by the mouse and thus, reflect on the monitor. A regular mouse would have about 800DPI when a gaming mouse could allow users to select anywhere between 100DPI and 8000DPI. Most gaming mice allow users to change this setting with just the click of a button.
Acceleration: Acceleration refers to the ability of a mouse to move the cursor depending on how fast the user moves his hand. With a regular mouse, moving an inch in a second could cause the cursor to move 500 pixels, but with a gaming mouse, the user can increase this to say, a level at which moving an inch in half a second could move the cursor up to 800 pixels.
Response Time: Response time refers to how often the mouse is looking for input from the user. A high response rate will translate to mean that the mouse is more responsive. Regular mice typically have a response time of 125Hz (Hertz), while gaming mice could offer a rate of up to 1000Hz
Weight: Unlike with regular mice, the weight of a gaming mouse is customizable as some gaming mice allow users to add on little weights to their mouse.
Buttons: Gaming mice manufacturers make them with extra buttons that allow users to customize each of these buttons as they wish. Each of these buttons can be set by the user to replace commands which would regularly require the user to enter some keys on the keyboard. And this could be a useful feature for gamers who need to act very quickly.
So, Do You Really Need a Gaming Mouse?
Answering this question will only depend on the individual who is considering the purchase. Of course, a gaming mouse could prove to be very vital for anyone who is a professional gamer or a gaming enthusiast. But this will also depend on the type(s) of game being played. Some games do not require your cursor to be sensitive or move incredibly fast.
In my opinion, if a gaming mouse has the ability to function as a regular mouse, and then, even better depending on your preference at the time, why not?
Selecting a Mouse: Wired or Wireless?
A lot of people who are still just wondering whether to purchase a gaming mouse or not could have a tougher time deciding between a wired or wireless one. So, let us look at both of them.
Although arriving at a decision here hinges on personal preference, there are yet some factors you should consider which could assist immensely in your decision-making process.
For wired gaming mice, wires could substantially reduce the flexibility in hand movements for the user, the wires also take up a lot of space and cause clutter. You do not want that when gaming. This is the main reason a lot of people have issues with it.
On the other hand, for wireless mice, as a result of the fact that the mouse is not directly attached to the computer system, a slight input lag could be experienced by the user. This lag is not noticeable most of the time, yet, with competing gamers who could need every fraction of every second, this might affect performance. Wireless mice are also more expensive because they use wireless technology, depend on batteries, and the batteries also have to be replaced now and then.
We have mentioned the problems you could encounter with either a wired or wireless mouse above, and so, the advantages either one have are what is regarded, as the disadvantages for the other putting that in context, the fact that a wireless mouse could be a bit slow to act on input since it lacks a direct connection to the system, which is a disadvantage for it, means that this problem does not exist with the wired mice since it is directly attached to the computer system.
And similarly, the clutter a user could experience with wired mice is not an issue with wireless mice because wireless mice do not use wires.
Selecting a Mouse: Laser or Optical?
There is also a very crucial decision to be made when selecting a mouse to purchase. Now for gaming, a lot of professional gamers often emphasize how much they prefer optical mice for gaming rather than laser mice. Why? Let's see.
The DPI: We have talked about what the DPI means at the beginning of this piece so you can scroll up for a quick refresh. The DPI difference between an optical mouse and a laser mouse used to be significantly different, with the optical lacking. However, with recent technology, there is not much of a difference between the two in this aspect anymore.
Accuracy: Optical mice make use of LED light which is typically not as bright or sharp as lasers. And so, laser mice can function on most surfaces, including glass! Now, some people consider this as an advantage of the laser mice. But on the other hand, the ability of laser light to penetrate through some surfaces also means it would record even very slight hand movements from the user.
Acceleration: Acceleration refers to how your cursor responds when you make incredibly fast movements with your mouse. Oftentimes, mice could cause cursors to make huge jumps over the screen after picking up a lot of data it really cannot process anymore. A lot of laser mice are very prone to this sort of movement hugely since laser lights are very sharp and so, they pick up a lot of details and could lose their processing capability a lot more easily.
Price: A lot of people have also talked about the fact that most times, the cost of laser mice are slightly higher than that of optical mice.
There are still, however, a lot of people who prefer laser mice to optical mice.
What to Consider When Purchasing Gaming Mice?
The DPI: Again, this is very important. To get a very potent gaming mouse, you want to ensure that your mouse has the ability to offer a low DPI so it could comfortably process fewer pixels and not get overworked. And although using a lower DPI for your mouse could cause the mouse to move a lot slower, you could adjust the sensitivity setting to balance that out. Increasing the sensitivity of the mouse will allow it to pick up even little movements and essentially move faster.
Polling Rate or Response Time: Also mentioned earlier, the polling rate describes the number of times per second the mouse is looking for input from the user, and reporting this input to the computer, which allows the computer to adjust the cursor accordingly. You should purchase a gaming mouse with a high polling rate or at least one which would allow you to increase the polling rate.
Surface: When purchasing a gaming mouse, it is also very essential to know what surface you would be using with it to ensure you get the best out of your mouse. For an optical mouse, you should go with a cloth mousepad while for a laser mouse, you could opt for a hard mousepad or a very thin cloth mousepad because a thin mousepad will mean that the laser would not go through a lot of surfaces and thus cause acceleration.
Durability: You want to ensure that whatever mouse you do end up purchasing, it is one which would last a while and will not develop problems after some time.
Ease of Use: And ultimately, make sure that whatever you purchase, you would find it easy to use.
What are Some of the Best Gaming Mice?
Steel Series Rival 700: One of the company's most impressive series so far, the Rival series and particularly the 700 have continued to impress over time. This mouse however very good with an OLED display that shows the settings and a lot of other things, the DPI is also pretty impressive with 16000 for an optical sensor and 8000 for a laser sensor. You can separately purchase a sensor to replace yours. However, the mouse is not ambidextrous and might come off as too expensive.
Asus ROG Spatha: This mouse is very impressive because it has a beautiful and very solid design which makes it a bit heavy but still very suitable for gaming. My favorite fact about it is that you can go wireless without any input lag or use it with the wire, it also has a lot of buttons for programming (the buttons could get annoying), and DPI that could reach up to 8200. Overall a very solid mouse in which you could sync with other ROG products by Asus, although its price is also pretty high.
Logitech G305 Lightspeed: Definitely one of the best wireless gaming mice on the market, no doubt. It also weighs very little even with the batteries put in and so, is very comfortable to use. It is, however, not a rechargeable mouse, so you would have to change batteries after about 250 hours of in-game use. The DPI's also pretty suitable for any situation with a maximum value of 12000. It is also reasonably priced.
Razer Viper Ultimate: One of the lightest gaming mice on the market too, it weighs very little and is ambidextrous, with customizable LED lights, the battery lasts up to 70 hours after charging. It is however also pretty expensive but offers value for your money.
How Much would a Gaming Mouse Cost in the Philippines?
A fine gaming mouse should cost between ₱2500 and ₱5000.