Top 10

Best Vivo Cellphones of 2021

Options considered: 40

Country:
Philippines
Last updated: June 2021
Ranking criteria: value for money, customer reviews, popularity, brand trustworthiness
For the past eleven years, Vivo has released commendable phones. Although there are various phone brands out there, Vivo has become a household name in the phone industry. It has been giving customers value for their money and developing its brand to meet up with the rapidly growing mobile technology world.
About ReviewFinder
We do the research for you - our full time job is researching products and reading reviews. We have no "fancy algorithm" - our team manually decides which products are the best by looking through reviews. We only make money if you purchase a product through our links, and we're determined to simplify your purchasing decisions.
ReviewFinder is reader-supported. When you buy through links on our site we may earn affiliate commission at no cost to you.
[close]
Our Ranking Criteria
In short, we do the research for you.
You probably don't have time to read through reviews of top 40 products
. We go through reviews for you, and try to paint a decent picture of your best options. We rank the products based on 4 weighted criteria:
customer reviews [30%] - how customers rated this product? Literally, the higher, the better.
popularity [30%] - how many people seem to buy this product compared to other options.
brand trustworthiness [15%] - the more other high-rated products by this brand, the more trustworthy we consider the vendor
value for money [25%] - adjust the above for price. If there is a better option for lower price, product is ranked higher.
What about the price?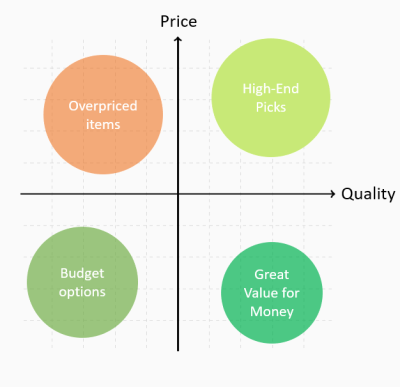 Price only accounts for 25% of the score because price is a tricky thing. It boils down to your individual preference - do you want to go higher-end or budget?
Ideally, we try to recommend better-featured items that have a lower price and high customer score, but in most cases you can't espace the fact that extra features/quality cost extra money.
Please take a look at the price chart for vivo cellphones to see the best picks in each budget.
Price ranges for best-selling Vivo Cellphones:
We made a price chart of the top selling Vivo Cellphones (see below). Budget options
start at ₱2029, going up ₱19999.
The most popular option is priced at ₱4999, which is on the cheaper side. We definitely recommend checking it out.
Click on a product in the chart for more info.
Vivo is a Chinese mobile communication technology company that designs and develops smartphones, smartphone accessories, software, and online services. The phone's operating system is basically android accompanied by iManager, Funtouch OS which is the Graphic User Interface OS which was recently replaced by the Origin OS. The phone's software is distributed through its V-App store.
What are the different series of Vivo phones?
Just like different phone brands have different series which differ from each other based on some special features, so also does Vivo. Vivo boasts of different standout models: Vivo Y SERIES, Vivo V series, Vivo Z series, and Vivo S series.
• The Vivo Y series consists of :
Vivo Y91, Vivo Y19, Vivo Y13, Vivo Y17, Vivo Y15(2019).
• The Vivo V series consists of:
Vivo V17 Pro, Vivo V15, Vivo V15 Pro, Vivo V11, Vivo V9.
• The Vivo Z series consists of :
Vivo Z1x, Vivo Z1 Pro.
• The Vivo S series consists of:
Vivo S1, Vivo S1 Pro.
Why should I buy a Vivo Phone?
Vivo phones are manufactured according to the taste of the tech-savvy younger generations in mind. Vivo phones are price-friendly compared to its counterparts in the Philippines. Also, you get a phone with an advanced camera on a budget and there are even available 5G Vivo phones.
What is the Average Lifespan of Vivo Phones?
Averagely, a well-maintained Vivo phone should last 2-3 years. When the phone starts signifying some downhills such as low battery capabilities and slow downs, you will know that it is towards its breakdown.
What is the Storage Capacity and RAM of Vivo Phones?
While buying a new phone, the storage space of a phone is often overlooked by buyers. Most buyers start noticing the storage space after they have used the phone for months. The good news is the outstanding Vivo phones have good storage space and RAM capabilities. The RAM in a quality Vivo phone ranges between 2GB-4GB and most have a large storage space between 32GB-64GB.
Are Vivo Phones good for Taking Pictures?
If you like taking pictures or are a lover of photography then, you can opt for a Vivo phone because the camera is to die for. Vivo phone selfie or front camera has its Megapixels ranging from 5MP-16MP and the brand features phones with 13MP-48MP back or main camera. Some Vivo phones have dual selfie cameras or dual back cameras and even triple cameras. Additionally, a piece of good news for lovers of selfies is that there are Vivo phones with front camera flashlight. An example is the Vivo Z1 pro.
What is the Battery life of Vivo Phones?
The battery life of phones is measured in Milliamps Hour (mAh). This is important because it signifies the strength of a phone battery. A standard charging of an hour will result in 1000 mAh for your phone. A regular phone often has a 2500 mAh battery which often lasts for about a day. However, quality Vivo cellphones have their battery capacity ranging from 4030 mAh- 5000mAh which are highly rated.
Are there Wireless Charging Vivo Phones?
Wireless charging has been embraced by different phone manufacturers. Wireless charging allows phones to charge by just placing them on a charging mat. The Vivo Y11 has wireless charging support and this will allow for easy and comfortable phone charging.
Do Vivo phones have good User Interface?
Vivo recently released a Graphic User Interface Operating System (GUI) with a grid-like design, nano alert, and customizable widget. The new User interface is named Origin OS which replaced the Funtouch OS.
Additionally, twenty-six new combinations of gestures gave been added to the new operating system. It comes with several motions and color changes. There is a presence of behavioral wallpapers that changes their shade based on the weather condition of the user's location. All these and more make the Vivo user interface stand out.
What are the Screen Sizes of Vivo phones?
If you walk into any Vivo outlet, you find out that there are different phone sizes available. These range from 5 inches to as large as 6.89 inches. Each screen is designed to the unique taste of different consumers.
Do Vivo Phones have Strong Screens?
You sure won't want a phone that will break at its first drop. This is why Vivo has got you covered with a durable phone screen. The Vivo Y11 for instance claim to have the protection of scratch-proof glass. The scratch-proof glass will help prevent your phone from breaking.
Screen durability tests have also been performed on Vivo Z1x which comes with a screen protector as well and it passed with no breakage.
Are there Vivo Phones with Curved Edges?
The curvy-edged screen phones are another trend in the mobile technology industry and thankfully Vivo has its Vivo X50 5G made with curved edges. The phone was officially released in 2020 and it comes with an AMOLED screen and curved edges which is highly-appreciated by tech-savvy folks.
Do Vivo Phones Support Dual Sim Cards?
People like to buy phones with dual SIMS because of the flexibility it offers. There are Vivo Phones that support dual sim cards e.g Vivo Y50. In order to know if a Vivo phone is dual sim, check its specifications.
What network models are Vivo phones?
Vivo has its phones in 3G, 4G, and 5G models. Since major cities in the Philippines now have a 5G network available, using a 5G Vivo phone will aid a faster mobile network.
Do Vivo Phones have Face Detection?
When it comes to security, Vivo phones are highly reliable. The Vivo phones have face ID that uses about 300,000 sensors. This is even more than that of some iOS phones. The recently introduced face detection is said to be in 3D (three-dimensional). Vivo also boasts of in-display finger prints and patterns which will keep your phone private and away from strangers.
Are Vivo Phones Water-proof?
There hasn't been any IP ratings for Vivo phones. IP ratings for a phone are Ingress Protection ratings that rate the protection provided by a phone against liquid, water, dust, intrusion, and accidental contacts. As such Vivo users should be careful with their phones while at the beach, swimming pool, or on vacations.
Are Vivo Phone Parts and Accessories easy to get?
Vivo phone accessories and parts are not hard to come by in the Philippines. There are websites, shops, and outlets that sell the Vivo phone accessories which include the chargers, earpiece, screen guard, phone pouch e.t.c.
What are the Downsides of Vivo Phones?
Most cheap android phones do not last as long as the expensive iOS phones. The Vivo phones can only last about 2-3 years compared to the expensive iOS phones. The reason for this difference is in the lower quality of parts used in cheap phones compared to expensive ones. Also, one may not get quick android updates while using cheap or low-budget range Vivo smartphones. These are not to pronounce Vivo phones as unreliable because they are top-notch. Especially the Vivo mid-range options and the flagship phones. Just that the engineering of the low budget Vivo phones are not as good compared to the mid-range and the high-end flagship options.
Do Vivo Phones have Warranty?
A warranty allows you to repair or replace your phone when necessary. This repair or replacement is done by the phone manufacturer within a stipulated period of time. When it comes to Vivo phones, the warranty lasts for twelve months for the main device and the battery of the phone from the purchasing date. However, for chargers, headset, and cables from the purchasing date. In order for a customer to claim the right to purchase, there must be valid proof of purchase. However, a phone that has been repaired by another outlet other than Vivo labs within the given period of time, will lose its warranty right.
What are the Price Ranges of Vivo phones?
Vivo phones are generally known to be quite affordable. As such, you do not have to break the bank to afford one. Therefore, you will not have to spend a lot of Philippines Pesos (PHP). The Vivo phones range between 2029 pesos for the low range budget smartphones, 4899 pesos for the mid-tier average smartphones, and 9499 pesos for the most expensive set which is the high-end flagship Vivo smartphones. There are however more expensive ones but these are the standard price. On the other hand, the warranty is still valid after flashing your phone if only the firmware used was downloaded from Vivo's official site.